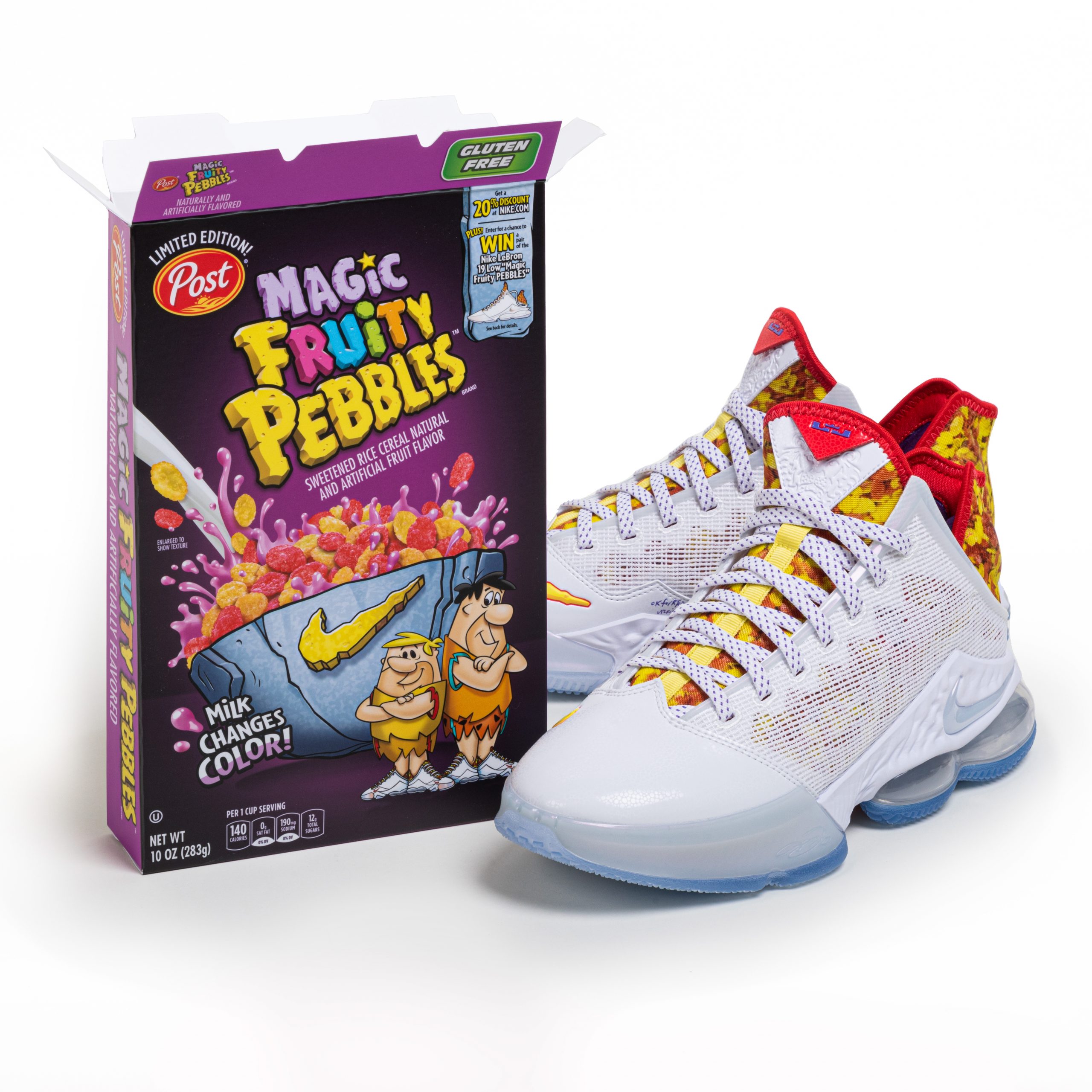 Magic Fruity PEBBLES™ x Nike x LeBron James Collaboration PEBBLES™ Cereal Celebrates National Cereal Day With Launch of Magic Sneakers and Cereal
LAKEVILLE, Minn., Feb. 24, 2022 – To celebrate National Cereal Day on March 7th, Fruity PEBBLESTM cereal is teaming up with two other cultural icons to tip off a truly colorful partnership in 2022. Powerhouse brand Nike and basketball superstar LeBron James are collaborating with PEBBLES cereal, officially licensed from Warner Bros. Consumer Products, to serve up several colorful, flavorful and magical ways for fans to celebrate this season.
The full-court press kicks off with the release of a truly iconic set of kicks. Inspired by LeBron James' favorite childhood cereal and collaboratively designed by Nike and PEBBLES, the Nike LeBron James 19 Low Magic Fruity PEBBLES™ shoe is a colorful pair of sneaks that features actual photography of the Magic PEBBLES red and yellow cereal flakes. "To have an original pair of my Nike sneakers pay tribute to my favorite cereal growing up is surreal," said James. "Putting them on and seeing the colorway come to life is even better."
The real magic, though, is the new 19 Low's Photochromic DCS Technology where the shoe's airbag uses the power of the sun's UV light to transition a completely clear Air unit to a purple colorway. This first-time collaboration between Fruity PEBBLES x LeBron means fans everywhere can unlock two colorways, both on and off the court.
"The PEBBLES brand is all about finding new ways to surprise and excite fans," said Leah Broeders, Head of Licensing for PEBBLES cereal. "We're thrilled to be partnering with Nike to launch this one-of-a-kind color-changing collab just in time for National Cereal Day. When we learned that LeBron was a HUGE fan of the cereal when he was a kid, we knew this was a no-brainer. It's truly the biggest partnership since the stone ages!"
Turning this launch into a true slam dunk is a pair of consumer engagements, something for everyone:
Each box of Magic Fruity PEBBLES features an on-pack promotion that offers all fans 20% off one single item at Nike.com, and sweepstakes for a chance to win your very own pair of the ultra-limited-edition Nike LeBron19 Low color-changing shoes. Enter and see full terms and conditions at MagicFruityPebbles.com.
PEBBLES is hosting a YABBA DABBA Dunk Contest for kids ages 6 to 15. Starting March 10th, consumers can submit their most creative dunks and trick shots at createwithpebbles.com for a chance to win a year's supply of PEBBLES cereal and a chance to be featured on the JumboTron at a professional basketball game!
Magic Fruity PEBBLES will be available at select retailers nationwide March 7 while supplies last. To find a store near you and discover the magic, visit www.postpebblescereal.com and follow PEBBLES on Facebook and Instagram.